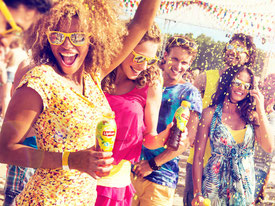 Hello everyone!
It has been a while but this week, in the theme of #BeMoreTea, the parkhouse around Zurich mainstation (Sihlquai 41, 8005 Zürich) is turning into an urban meetingpoint itself. From 10.00am on, you can relax there, grill and chill and actually enjoy cool life acts. Thursday evening there will be an exclusive concert from a surprising act - I will be there for you to take exclusive pictures and impressions for you.
The point about #BeMoreTea is to go grab yourself something at lunch to put it on the barbecue grill. Openinghours: 10.00am - 3.00pm. #BeMoreTea wants to give everybody the option for a short gedaway, and relax up there on the rooftop to escape from work for once. What a wonderful idea - you need to try this out! #BeMoreTea offers you daily free Live-acts and activities. For example streetart-artists, a miniramp to skate and cuban music. The lounge invites to stay and chat with friends or co-workers. The Lipton rooftop also offers local food from Zurich so as real cuban food. Delicious!

For the event on thursday night tickets can be won over the link: www.bemoretea.ch
Attention, for the musicfans of you, there's an OPEN STAGE on Friday:
Friday night belongs to the talented newcommer acts!! Lipton Rooftop offers to all of them a platform to show there musical skills.
Sign up and perform over the following E-Mail-Adress: bemoretea@streuplan.ch
www.lipton.ch
www.bemoretea.ch
www.facebook.comm/liptoniceteaCH
See ya'll there, have a wonderful day, Livie!