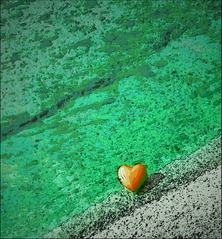 Did you ever had that situation where everything was on top and all the sudden everything just drops? Plans, goals, travels?

I could say that this is exactly the situation I'm inn right now. After breaking my right foot with skateboarding at my new job im all set back to my roots pretty much.
I was working with that broken foot at the beginning for over a week and after that didn't knowing what it was for over a month there was just pain altrough: medicine not working - yeh thank you docters and hospitals internatial and national, you weren't much of a help!  My advice there - always go to another doctor and do researches on your own. No one else cares. If a pain killer doesn't help, don't just take the next one - go ask again the physician might have given you the wrong treatment and shitty medicine or just didn't care about the fact that you where insured!

Now sitting around back in Switzerland at home having the most loving family I could wish for helping me out with this "big" issue of mine.  Actually - not a big issue, thinking about how many people are really suffering from bad lethal diseases. High level complains here - which I feel sorry for! Beeing dependent on others is the worst thing to me, I feel really bad about it. Love my freedom and flexibilty - both gone for now..

But still, that foot messing up all of my plans  does scare the shit out of me. It's only a foot that is "out of duty" for a couple of weeks ahm no wait 10-12 weeks( serious?!) where I would have been able to work at the surfcamp and having the time of my life - whichfor I gave up pretty much like my job, appartement etc.

It could be so much worse than that but it scares me seeing how much we are dependent on a healthy body. Did that come up to show me how important health is??Didn't I know that before already? Maybe wanting too much at a time didn't help me eighter. But was it too much I wanted? You can't tell your bones not to breat if they do..Sports can be killing, yess - but beeing without sports for me is like beeing in a cage pretty much. And sports plus music is what keeps me alive and these things get me over everything.

If there's an answer for this, I'm thankful for it. Maybe beein' stuck is imporant sometimes? Maybe it's just bad karma hitting me? Didn't I deserve more for once? What is that good for?...

As you see it's not always easy especially if you're despreatly searching for answers when all you should do is to accept your situation and just take it one step at a time.

Dear patience where are you? Need you desperately...your's the sportsjunkie!

Share your expieriences with me if you experienced similar setbacks...advices are welcome!