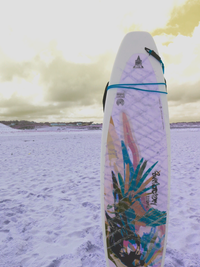 At the camp we got some great surfinstructors which teach our guests all of the theorie that they need about the water, the drifts, weatherforecast, conditions and technique how to stand on a surfboard etc. Knowlege that you need to have before goin into the water. We have several different classes with different students-level that you can book and join. So you're prepared for your first ride on the waves or you refresh your skills with an instructor.

 Surfing actually takes a lot of patience and bodystrenght so as arm-muscles. Everybody who already surfes knows what I'm talking about. ;-)
Here you see some impressions of the latest classes. Lots of fun at the camp with interesting people.
www.puresurfcamps.com